Atmos 5010: Weather Forecasting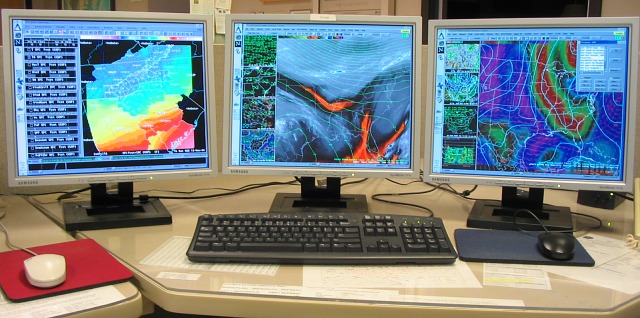 Spring 2018
Course Description
Atmos 5010 provides students with an introduction to the tools and techniques used for contemporary weather forecasting. Students analyze and forecast the weather in each class, with the instructor providing a guiding hand and stimulating discussion of forecast issues and techniques.
Overview and Learning Objectives
At the end of this course, students should be able to effectively use meteorological observations, numerical weather prediction models, and statistical forecast tools to produce site-specific sensible weather forecasts in a time-constrained environment.
Format
Two classes per week (10:45-12:05 AM TTh) in the 711 WBB computer lab.
Grading
This course deemphasizes the traditional lecture-exam format of classroom instruction. Instead, students participate in an in-class forecast practicum. How much you learn depends on your level of engagement and participation in the practicum. There are no exams. Grades are based as follows:
50% accuracy of practicum forecasts
25% attendance and participation
25% online modules
Students are allowed one absence without penalty, with each additional absence reducing the attendance and participation grade by 5 points out of 20.
Online Modules
Students must complete online learning modules each week as outlined below. To do this, go to the COMET MetEd Site, sign up for an account, and enter my e-mail address in the Supervisor/Instructor e-mail field. Quiz scores will then be e-mailed to me after you complete a quiz. I will also be able to view and download your quiz results directly from the COMET MetEd site. Here is a schedule for module completion. Each week you will need to complete 1.5-3 hours of modules.
1. Complete by March 8:
2. Complete by March 15:
3. Complete by March 29:
SatFC-G: Visible and near-IR bands
There are no quizzes for these modules, so simply e-mail me a bulleted list of 3 key concepts learned in each module.
4. Complete by April 5:
5. Complete by April 12:
Warning Decision Training Division modules on polarimetric radar: Introduction, Correlation Coefficient, Differential Reflectivity, Specific Differential Phase, Hydrometeor Classification, Melting Layer, and Quantitative Precipitation Estimation. You do not need to complete the quizes for this week, but send me an e-mail summarizing what you learned in each module.
6. Complete by April 19:
Challenges of Forecasting in the West
There is no quiz for Operational Models Encyclopedia, so just send me an e-mail telling me you completed it
Forecast Practicum
Students produce in-class forecasts for the Salt Lake City International Airport (KSLC) and a floater site selected each morning before class. For each site, students produce a 16-variable forecast covering three sensible weather categories: temperature, precipitation, and cloud/wind. Forecasts are evaluated using traditional forecast accuracy metrics.
Required Computer Skills
Forecast tools will be accessed using computers in 711 WBB (assigned at the beginning of the semester) or personal laptops. These tools will be accessed using web pages or IDV bundles. For the latter, students will need a basic knowledge of IDV and must configure IDV as described here. IDV YouTube tutorials are available here and some basic instructions are available here. Learn it and love it! Motivated students can download the IDV from Unidata, install on their laptops or personal computers, and use many of the bundles used in class and available here.
ADA Accomodations
The University of Utah seeks to provide equal access to its programs, services, and activities for people with disabilities. If you will need accommodations in the class, reasonable prior notice needs to be given to the Center for Disability services, 162 Olpin Union Building, 581-5020 (V/TDD). CDS will work with you and the instructor to make arrangement for accommodations. All written information in this course can be made available in alternative format with prior notification to the Center for Disability Services.
Tentative Schedule and Course Notes
Mar 1: Course Overview and Forecasting Practicum
Mar 6: Weather Forecasting Tools and Techniques
Mar 8: Forecast Practice
Mar 13: Forecast Practice
Mar 15: Forecast Practicum
Mar 20: Spring Break
Mar 23: Spring Break
Mar 27: Forecast Practicum
Mar 29: Forecast Practicum
Apr 3: Forecast Practicum
Apr 5: Forecast Practicum
Apr 10: Forecast Practicum
Apr 12: Forecast Practicum
Apr 17: Forecast Practicum
Apr 19: Forecast Practicum
Apr 24: Forecast Practicum